The Advocate - February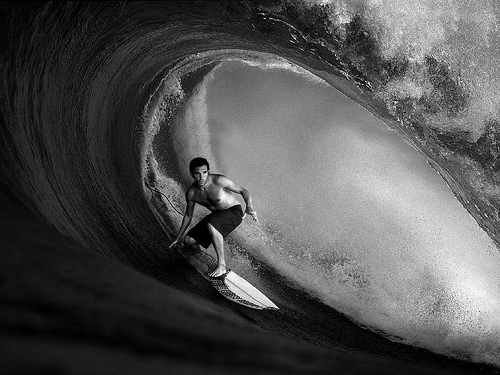 Let's play guess the brand. Photo courtesy of Lolapaipro
As you can tell from the Brand Catwalk strand I am interested in the qualities that make for potent new brands. They appear, seemingly out of nowhere, purpose built for the new brand landscape and dripping in authenticity, product performance and points of view.
But what if the task at hand is to revitalise an existing brand?
Ladies and Gentlemen, I give you Old Spice from the boys and girls at Wiedens.
Others have blogged about the Old Spice campaign; indeed it was Russell that initially brought it to my attention. However now I want to subject it to the attentions of the Advocate and you lot of brand nit pickers.
Cardson the table, I love it - proof that any thing is possible in this wonderful business.
OK so in the US Old Spice does not have the same tired reputation as it does in the UK - where enormous affection is mitigated by fading relevance. It is actually the number one men's fragrance brand thanks to the efforts and attentions of its parent, P&G.
But Axe/Lynx it ain't.
The dramatic potency that BBH have woven into the Axe brand (Lynx in the UK) had made it a global brand to reckoned with, dripping as it does with the promise of female attention and lets face facts - sex.
So successful is it that that Axe has forced other fragrance brands up age and out of sight - here, there and everywhere.
So what is Old Spice to do?
Render the Axe approach an embarrassing irrelevance that's what...
The Old Spice response has been to take a position on the importance of experience. Experience makes people more interesting, wiser, attractive, competent and authoritative. Experienced men are therefore rather more to be desired than callow youths that obsess about sex but are as likely to get any as England are to regain the ashes in my lifetime. For Old Spice experience wins out over enthusiasm any day
And you know how I like a brand with a position.
Of course this is only half the story. A potent and highly competitive strategy (they even talk about Axe as European Manfume) is then met by a wonderful brand personality. In fact it is almost a brand anti-personality because it exists not to personify the brand or represent the audience (as Old Spice has done traditionally) but to create a world for the brand which it is fun and involving to visit. Imagine trying to sell that to a client?
Of course this is a proper brand idea, rather than just an advertising idea, so it works beautifully wherever it is asked to touch consumers.
The online presence is a sheer joy - allowing you either to test your current level of experience or train so that you become more experienced. And it's not some 30 second wonder, to make it through the 50 questions that assess your level of experience takes real commitment from the visitor.
So hats off to Wiedens and P&G, which is increasingly demonstrating it has the creative guts to do what's needed to keep established brands relevant.
Now, clearly I am most interested in whether this approach yields some decent sales dividends and if any one has a feel for this let us know.
However, I thought we should wrestle with a slightly broader issue. So here is the debate.
Is this kind of brand revitalisation, a sustainable shot in the arm for potent brands that have merely been neglected?
Or is this approach simply about marketing communications riding to the short term rescue of a fading brand and merely papering over the cracks?
I want the conclusion to be that the application of fresh strategic and creative thinking can make all the difference to a business. But what of Tango and Pot Noodle, two brands that we 'turned around' at HHCL? In the final instance were we simply wringing a little more mileage out of products in long term decline?
Over to you.
Incidentally this is the latest Axe ad - same old same old - maybe it will titilate the odd prepubescent boy somewhere.
Comments
I think the initial campaign is kind of gimmicky, but the idea has enough depth to be iterated in different ways as time goes on which will only give it further authenticity.
(Did I use enough buzz words?)
Posted by: Lauren at February 2, 2007 06:13 PM
I think revitalisation is entirely possible since the tired Old Spice reputation is very old and thus, to many, the Old Spice brand might actually be a blank canvas. That said, I was entirely unaware of the campaign and wonder if that's a revelation in itself. Proposal: people within the industry are more interested and more aware of "campaigns" than the punters. I'm sure that's not an original thought, but I wonder if it's true.
Posted by: John Dodds at February 2, 2007 08:32 PM
As for the 'papering over the cracks' comment; it really depends on how much the Old Spice brand lives the thought.
It's not amazingly original.. but given the age of the brand's thinking (as said before), it's entirely plausible for it to work.
You could set up a whole branded 'Old Spice' experience, albeit with some clever PR and promotional activity. The viral could very easily be a TV spot, but for the beauty of the campaign (and indeed, the overall message) it seems to make far more sense that it isn't, such is the subtle, clever notion of experience.
In terms of a 'right strategy for the right brand' thought, it's the best campaign this year so far. I'm a big big fan. So much better than the Monkey ITV work or any toehr big budget thinking which has been suggested by others thus far.
Posted by: Will at February 2, 2007 08:59 PM
Not wishing to put a downer on anything but Old Spice smells really horrible. Doesn't it? It does. Regardless of how "good" this ad is, it doesn't stop it smelling really horrible. Surely that's a big problem.
Posted by: Marcus Brown at February 5, 2007 09:07 AM
Marcus is right. Old Spice DOES smell horrible.
My husband is a 'Brut' man and has been for thirty years now
It's not at all popular but the ROI is that I can easily find him in a crowd by following my nose to the "great smell of Brut".
After thirty years, I can confirm that Brut NO LONGER smells great - it is part of the furniture.
Posted by: Mrs Belmot at February 5, 2007 04:53 PM
I had a client who insisted that O.S. wasn't a factor in his lack-of-women status.
He's now engaged (and not to a troll) so maybe there's still legs in the old product yet
Posted by: The Dating Coach at February 10, 2007 04:50 PM