Many a slip twixt pre-prod and playout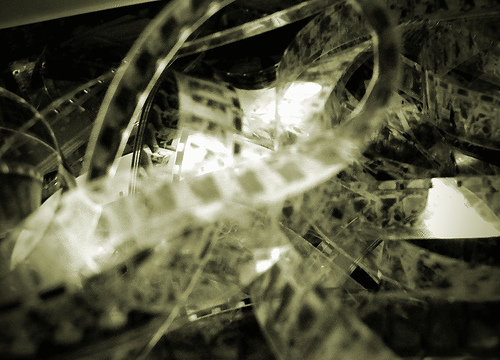 Image courtesy of Sashamd
I have long believed that a planner's job must continue right up to the playout of an ad - not just working on the client's business but working on the ad itself.
For me a planner needs to be hold onto the project whilst it is in production and post production right up until the clock number is allocated.
I call this continuity planning for some inelegant reason.
Of course we need to be careful about this. It is a more passive role at this stage, if you are a control freak during this part of the process you will never allow the craft disciplines the space and freedom that they need to make the work executionally perfect. As David Ogilvy was so fond of saying "why keep a dog and bark yourself".
And I have never been that convinced about planners attending shoots - contributions at that stage are neither appropriate nor useful and, as with everything else, should have been covered off in the pre-production process. Of course on some projects planners might wish to be at the shoot simply to preserve the team dynamic that will have built up around a major peice of work.
All of that having been said, if we believe that the body language of communication is as important as the message (if not more so) then planners cannot absent themselve from this critical stage, as the work takes shape. And, while there is rarely a place for a planner on the set there sure as hell is in the edit suite and sound studio.
A neat illustration of the difference made by tiny post production decisions came my way very recently.
Searching on YouTube for Wieden Amsterdam's imaculate Nike Air Max commercial (featuring Johnny Cash's version of NIN's Hurt) I came across and alternative edit.
First remind yourself of the ad that played out - still gets to me every time.
Now consider the alternative edit. I think we can assume it was a real option, even if only for a nano second since it is from the Mill.
I was stunned by the difference simply treating the footage with a consistant sepia tint has made.
Theoretically it makes sense if you are using borrowed footage from a number of sources to treat it all in some way. Firstly to improve the visual consistency of the film and secondly to add a 'look' that will help cut through and attribution.
And yet in simply changing the 'grade' every single drop of emotion is bled from what was a deeply emotional film. By removing the visual authenticity of the original athletes going through real physical and emotional pain it takes on the artificial look of something that was shot for the occasion.
Of course you don't need a planner to realise this, far from it. Any good team will have given it the treatment a go in the edit suite and backed away - which is surely what happened here.
But it makes you realise the way that one tiny decision in post can make the difference between the success and a failure of a piece of communication.
And if it doesn't work because of that decision then for me the planner still has to take responsibility - better to have been there in the first place.
Comments
'Continuity Planning' - or 'continuing to poke your nose (even even when its not wanted) for the benefit of the greater good' :-) It gets even more interesting when you're the lead agency/planner for a client with multiple agencies...
Posted by: gemma at September 28, 2007 08:57 AM
Absolutely agree that planners should oversee from shoot to post-production. The sepia tint certainly adds continuity, yet I imagine the first clip was chosen in the end because colour, and the incongruity between different footage made the sense 'hurt' more real, rather than a distant glorification from ad world?
Posted by: Luke Tipping at September 28, 2007 10:27 AM
I couldn't disagree more. Planners should never be in the pre-prod, on the shoot or in the edit suite. They should be making sure evaluation measures are being put in place, getting on with planning their other accounts or any number of other things that they are paid to do. Whatever value you may add as an individual during the production process has nothing to do with planning. What on earth can strategic insight add to discussions about angle of shot, dress or edit? Sure you may have an eye for a shot, you may even have directorial ambitions but that 'aint planning.
Posted by: Phil Teer at September 28, 2007 11:52 AM
I'm with Phil.
It's an argument for (yet more) opinion in the total absence of any relevant craft skills and knowledge.
Worse, it seems to suggest ("Any good team will have given it the treatment a go in the edit suite and backed away - which is surely what happened here") that others involved in the process cannot be trusted to make the right decisions or exhibit conviction and backbone in seeing them through.
Worse yet, it implies that the planner is the only who can.
I'm a planner. Yet the implication that we planners are by right the sole bastions of reason, truth, justice, insight, conviction and understanding... and that without us lesser mortals will get things wrong rather appalls me.
It's planning hubris.
Posted by: Grumpy at September 28, 2007 12:47 PM
I can see both sides of the argument here, but *sometimes*, there can be a benefit in someone who is one step removed from creative development spotting something that everyone else is too close to notice.
Not that Planners should be breathing down Creative's necks 24/7, just that it might be a positive thing in some cases if we were involved at appropriate stages.
Posted by: gemma at September 28, 2007 02:06 PM
Very interesting.
You are describing part of what I have done for a living for the last few years. But I've never met other planners who also do this.
Continuity planning pays dividends and sometimes adds value even on set. But I admit these are rarer moments, more often related to the creatives, director or talent wishing to try something previously not discussed in the pre-prod.
The role as applied to film (TVC, cinema, digital), for me at least, is close to that of producer-come-planner.
The contribution offers inherent value from the brief writing to the post-production and media planning stages.
Posted by: Kevin Sugrue at September 28, 2007 05:31 PM
The function described and debated here is that of the creative director, and nothing else, in my book. Creative directors, however, do (and/or should) have somewhat of a "planner mind". Questioning, never getting too close to, and in love with, a solution not to be able to say, NO - It's not good enough. Planners and CDs should stay in close contact through out the work - but planners should not have to attend shoots and editiing process. You'll find yourself not having time to do your job. Kind of like an account exec also doing account man. job - there's no time for "what's next" only "getting this done". That's my oppinion.
Posted by: O.S at September 30, 2007 08:50 PM
Richard,
you are simply talking about the application of craft. A good planners involvement throughout a project is invaluable, however the magic at which you are marveling is second nature to a talented creative.
I think this is another example of the true value of pure aesthetics, and their increasing relevance in what we do.
Posted by: nils leonard at October 1, 2007 08:12 PM
If only Richard Flintham and Juan Cabral, or Carty and Campbell, or John Webster had taken a planner along to the shoot and into the edits they'd have made some decent ads. Never mind, at least in future we creatives won't fuck it up thanks to you guys
Posted by: A Mere Creative at October 2, 2007 02:40 PM
"Of course on some projects planners might wish to be at the shoot simply to preserve the team dynamic" ... fuk up, more likely!
Hey – let's get a consumer focus group in as well.
Creative opinions are like a**holes – everybody has one and they all stink.
Planner hubris sums it up.
Unfortunately, this all-pervasive dumbing-down canker has spread to every corner of the creative world. Aesthetics by committee does not work.

Posted by: Another mere creative at October 3, 2007 12:29 PM
I agree with Nils - with one little semantic quibble. What's being described here is creative judgment, an instinct which ought to be be informed by some genuine consumer insights (cue our speccy friends in the planning department.) If your creatives are so lacking in judgment that a planner, or for that matter the receptionist, needs to be present throughout the production process, I say sack the turnips. But Continuity Creativity: now that does have a nice ring to it. Get us humble writers/art directors involved at the start. At the very least our clients would have to sit through fewer "brand polygon" slides.
Posted by: nick strada at October 3, 2007 02:37 PM
I knew you guys weren't busy enough!
Posted by: Scamp at October 3, 2007 04:03 PM
Oh come on creative kind lay of the defensive bit.
Firstly I with Nick on continuity creativity. The quid pro quo of what I am talking about (and by the way it was just to illustrate that post matters to the effectiveness of an ad and that planners need to take some responsiility at this stage) is that creative teams work with the planners to frame the strategy thereby ensuring that the idea that is then worked into a brief is exciting enough to yeild great work.
The point is that there is no point of hand over either way.
On the subject of shoots I think it is rather natural if a team has been working on an idea together for six months that they might want to see it come to fruition. There is nothing a planner can or should be doing there (and remember I'm not keen on planners attending shoots) but sometimes it feels right to keep the team together. Plus they almost always provide time to focus on the campaign and think about other stuff that we could be doing away form the distractions of the agency.
This is a collective endevour after all. Collective thinking collective responsibility.
Posted by: richard huntington at October 3, 2007 08:11 PM
If everyone is good at what they do, and confident that they are, what's the harm in another opinion? Creatives get awfully possessive of their work, often forgetting that it isn't "their" work at all, but a collective effort that has taken a lot of months from a lot of different people. Planners should stay involved to the end, and creatives should get involved from the beginning. As a creative myself, I think we too often forget that we're not the only creative people in the building. And as a creative, I think planners often forget that they're not the only brilliant and strategic people in the building. A good agency knows that a good idea, creative or strategic, can come from anywhere.
Posted by: okay. at October 3, 2007 08:21 PM
Why don't planners just change the name for what they do to Process Police? Seems apt. God knows how we've got by in edits etc until now
Posted by: A Mere Creative at October 4, 2007 10:40 AM
Someone's thrown a planner in the works.
Posted by: mike at October 10, 2007 07:03 PM