New work from new home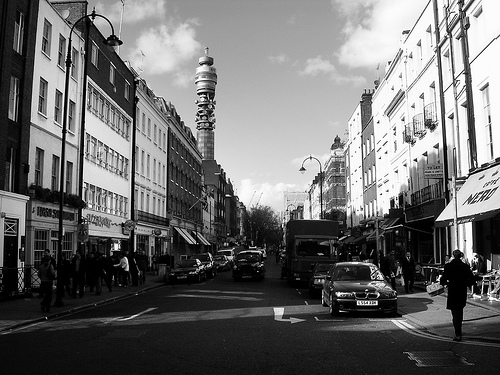 Charlotte Street, spiritual home of London's ad land. Image courtesy of Chaz Folkes
Thought I'd put up two new bits of work from Saatchis in London. Visa is hot out of the edit suite, you may have clocked Carlsberg already.
Comments
I like the Visa spot a lot.
Posted by: John Dodds at March 21, 2008 11:19 AM
It's all about discovery. Visually arresting with humour throughout that rewards repeated viewings. And, praise the lord, an ad that appreciates that showing the product upfront does not demean the "art" but actually helps the viewer uncover the underlying insight before the tagline and thereby increases engagement.
Posted by: John Dodds at March 21, 2008 11:29 AM
Agreed John. I'm practically sick with envy. Brilliant work.
Posted by: Charles Frith at March 21, 2008 11:50 AM
At last, something from Visa that starts to challenge the Mastercard work in a meaningful way.
Really enjoyed the work - a lovely story that genuinely keeps you watching to work out where the running man is going - and why.
Always refreshing to see some financial services/credit card work that takes the basic product truth for everything in the sector - "we're all you need to help you buy stuff you want" - and makes something compelling of it.
Good stuff. Hats off to the team.
Posted by: James Gordon-MacIntosh at March 21, 2008 07:13 PM
Excellent work - humour, likeability, surprising, well executed, nicely paced. Jealous.
Posted by: Holycow at March 24, 2008 10:37 AM
I've walked up and down charlotte street sooooo many times in the last few weeks. We went and saw Brian Connolly and Rachel and Isy at Saatchi. I love that street.
Posted by: Rachel of RDDC at March 24, 2008 10:03 PM
Nice work. As Holycow says, the pace is one of the most striking things about it. Did you go to the shoot?
Posted by: Stuart Parkinson at March 25, 2008 11:04 AM
like your pov on strategy.
love the carlsberg initiative.
on first showing visa feels a little contrived..
a man running around the world to marry a hot chick.... what's the insight on that?

Posted by: mm at March 25, 2008 11:09 AM
-Stuart Parkinson, I think you've missed the important bit at the end of the Visa ad, namely the two "mates" who were likely responsible for the groom's predicament at the beginning explains the contrived-ness of it.
Posted by: Geoff Taylor at March 25, 2008 07:09 PM
if you have to explain the 'contrived-ness'of something then surely thats a problem....
but i digress, i like the ad...definitely grabbed my attention and made me follow the story...unfortunately that story led to some corporate blue bolt on at the end saying something about life flowing????where did that come out of? is it a mistake somewhere and thats the endframe of a different ad?
Posted by: rupert s at March 25, 2008 09:21 PM
Love both the ads.
Particularly like the restraint of client/agency not to show the product "in use" at various points.
I once went to Wimbledon AFC and was absolutely charmed by the place. Gosh, people smile at you and enjoy themselves without snarling at visiting Spanish wingers with bared fangs (that would be Chelsea).
In my day, etc etc. (actually Millwall used to Stanley knife you, allegedly. Now there's an Interesting place to start for that brand...)
Posted by: jon leach at March 26, 2008 01:59 PM
I'm with Rupert -- the Visa ad is fantastic -- but 'life flows better'? It's a bit deflating. Just like the imposition of 'belong' at the end of the recent Carling work.
Posted by: lee mcewan at March 26, 2008 06:54 PM
I think Belong is the most relevant, popularist, insightful campaign thought I've seen in a long time.
Good blog by the way Lee!
Posted by: Stuart Parkinson at March 27, 2008 12:01 PM
Let's not suck everyone off just yet.
The Visa spot is nice, nice story, nice twist, but could be for trainers, could be for beer, could be for a number of things. Does nothing for the Visa brand equity bucket - but it's an ingrediant brand so what ya gonna do? Will it help conversion? No. Will it be remembered as Visa? Maybe. Is it nice? Yes very nice.
Carlsberg on the other hand, bravo - though I haven't seen this anywhere but online, if resticted to online it's limited and a wasted opportunity. Gives Carlsberg great personality though and builds on a long lasting brand thought in a different way.
Posted by: Raj at March 27, 2008 05:57 PM
Having worked with Mastercard, it's about time Visa had something to offer. The ad is a lovely film, but I feel for you with the bolted-on 'life flows' (gulps down nausea)
The AFC Wimbledon announcement is a fantastic extension to the TV - but needs to be more broadly spread about. 10 days on and this is the first time I've seen it...
Posted by: Chris at April 4, 2008 01:11 PM

Visa is nice, but when it comes to end it's delusion.
This, of course, it's just my opinion.
Posted by: Ted at April 4, 2008 02:04 PM
Both are great. Not too many disagreements in the edit suite i hope : )
Posted by: Scamp at April 4, 2008 06:03 PM
Post a comment