Is it the end of the line for the digital agency?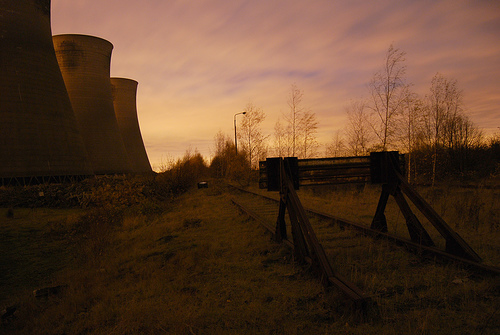 Image courtesy of Ackers-Schoolboy Hero!!!!
Some time in the early summer the Met Office rather confidently predicted that this would be the summer of the BBQ, so hot, dry and altogether splendid was our weather going to be. Alas it turned out to be a rather different meteorological kettle of fish and once again this summer has been unremittingly dreary, anything but the summer of the BBQ. Similarly at the beginning of this recession the soothsayers of the digital community rather confidently predicted that this would be the recession of the digital agency, basking as they would be in the sunny glory of a much-trumpeted culture of accountability. More than that, it would be the death of those sad old orthodox ad agencies that in the parlance of our time simply 'don't get it'. Alas, if you are a digital shop it is turning out to be anything but your recession. Good news for digital, bad news for the rather quaint idea of the standalone digital agency.
Indeed the orthodox agencies will emerge form this recession stronger, better, leaner and with the lion's share of the business that used to be the preserve of pure play agencies as the latter struggle to play in the big league or face annihilation.
In many ways this is simply because at long last client organisations are taking digital seriously and Marketing Directors in particular now see it as part of their core responsibility rather than something rather marginal that can be delegated to someone keen and junior to look after. And with contemporary marketing involving so many disciplines demanding the attention of your average marketing chief, there are real advantages in integrating as many of these into as few agencies as possible. Preferably the agencies they work closely with and trust most. In some cases theses are digital agencies by birth, in many cases they are not.
Of course we have long acknowledged the inevitable convergence of the two agency worlds since the division of labour that we currently tolerate is utterly ludicrous, not least because it sustains at least two sets of pointless overheads that clients are inevitably paying for. However, recessions cause more dramatic adjustments in the market and there is a very specific and powerful new factor at work that will significantly accelerate this process. The fee negotiations that orthodox agencies are involved in to secure their retainers for 2010.
Orthodox agencies may have been the brunt of digital jokes about pathological slowness, limited creative ambition and a culture that doesn't get interactivity and participation but that has long ceased to be true. They have got with the programme and if not hired the programmers certainly hired any one else a bit tasty in the digital world. And armed with this capability and ambition CFOs are marching into fee negotiations poised to take out the standalone digital agency with a finely crafted remuneration proposal. A document that promises significant cost savings for the Client's budget and moderate increases in revenue for the agency by rolling the brand's digital scope into the responsibilities of the lead advertising agency.
The only solution for stand alone digital agencies in the face of this tsunami of excited finance directors is either to follow the lead of the media agencies and create vast buying points for commoditised production capability or to develop such strong creative or technological specialisms that they remain of greater value to their clients than the bigger scope deals that are on offer from the orthodox agencies. Otherwise it is not just the BBQs digital agencies should be worried about but their lunch too.

This post originally appeared as a column in New Media Age
Comments
Thanks for the thought provoking post. It sounds like you are implying both orthodox agencies and digital agencies will both move closer to the center? Perhaps as "digital" is taken more seriously by Marketing Directors, the agencies that server them will more accurately reflect the client priorities. Also, hopefully, Marketing Directors will see "digital" for what it is at it's very core – another channel to interact with potential customers on behalf of their clients – each digital channel with it's own nuances, but still a channel.
Posted by: John Barton at September 14, 2009 03:52 PM
Good short succinct post.
I disagree that traditional agencies have all of a sudden got the digital chops to compete. You're implying that in a span of 2 years traditional agencies have acquired the sum knowledge of people that have been in the digital industry for over 10. It's not possible, and its not reality. Simply hiring a few programmers into a traditional agency will not win the race. You have to come up in digital, you have to live and breathe it. You'd be trying to retrofit a few digital folks into an old school broken model.
Take the reverse scenario and see if it works in your theory: A digital agency hires a brand manager and a print designer, and all of a sudden is a competitive branding/identity shop? I'm sure when seen in the opposite light you see its lunacy.
Posted by: chris at September 14, 2009 05:47 PM
Not to be petulant, but seeing as digital has been around in some form for two or three decades isn't it just as orthodox as anything else? Hasn't digital quickly formed its own set of rather traditional rules around it's existence? Some stand-alone shops are exceptional standouts, but most aren't.
In an era of infinite channel opportunities but finite budgets isn't the greatest need for clients how to determine how all their media works together and where to best invest for a given brand/product/promotion? Guidance from people who can do it honestly, agnostically and effectively?
Posted by: Brett T. T. Macfarlane at September 14, 2009 10:48 PM
I think that a wider variety of people are being hired, as those 'traditional' shops still tend to have larger budgets for hiring and training.
Because of this, the model where the source of competitive advantage of a 'neutral'( or channel agnostic, or whatever you want to call it) shop is being eroded. Hopefully, the days of ad agencies only being interested in TV/the greatest margin they can squeeze is also dying off.
All being well, this bollocks about 'digital natives' will go with it. As Brett says, digital has been around for a fair old time. To suggest ad agencies have just had their heads in the sand for these many years is a bit of a nonsense.
Posted by: Will at September 15, 2009 10:40 AM
The digital vs traditional distinction is meaningless. The ability to integrate is everything.
Posted by: James Cherkoff at September 15, 2009 02:45 PM
Posted by: scott at September 15, 2009 08:52 PM
I think traditional agencies will be in for a very big and unpleasant surprise if they choose to "roll the digital scope into their responsibilities for a modest increase in revenues"! As everybody who's running a digital agency knows, creating outstanding digital work usually entails much more time and many more specialized functions than creating advertising campaigns.
In an ad agency you can basically do great ads by putting together a good account director or planner with a couple of skilled creatives. The finalization of ideas can always be outsourced. Not so in the digital space where creation of truly great work requires the insights of many more specialized people: information architects, front- and backend developers, system architects, motion graphic artists, visual designers, technical project managers, digital media planners, test, tracking and optimization experts...just to name some of the people who you would be well advised to seek out if you wish to achieve and extend your digital presence beyond the occastional viral film, facebook app, banner ad or campaign site.
To run a profitable and smooth business when you have so many cross-functional teams and specialists working together either in-house or via partnerships, requires years and years of practice and experience as well as processes that don't even exist in the traditional agencies today. Ask any managing director of a digital agency that delivers digital work across the board and from ideation to completion, and he will tell you of scoping issues and write-offs in a magnitude that is not even known to ad agencies. When you marry an ad agency with a tech company, you get a whole new breed of business model that only very few has learned to command - and even they are still on the first part of the learning curve.
I think it's incredibly arrogant to suggest that just because you're a smart ad agency that has pulled off some very clever media stunts or happenings like T-Mobile, that you then all of a sudden can master and merge a new business model into a very old one.
Posted by: Kim Jong Andersen at September 17, 2009 10:28 AM
Hope you don't mind me saying Richard, but it has been a while since you wrote such shortsighted old tosh. You petty digs at 'digital' make it sound like you see it all like a pre-school playground where the big boys rule. Nonsense. I take the Darwinian view on this, it will the most adaptable to change that survive. You'd better hope that your 'confident prediction' about ad agencies getting with the programme heads true, from my experience I deeply suspect this will not be the case!
Posted by: Julie at September 23, 2009 08:00 AM