Childline campaign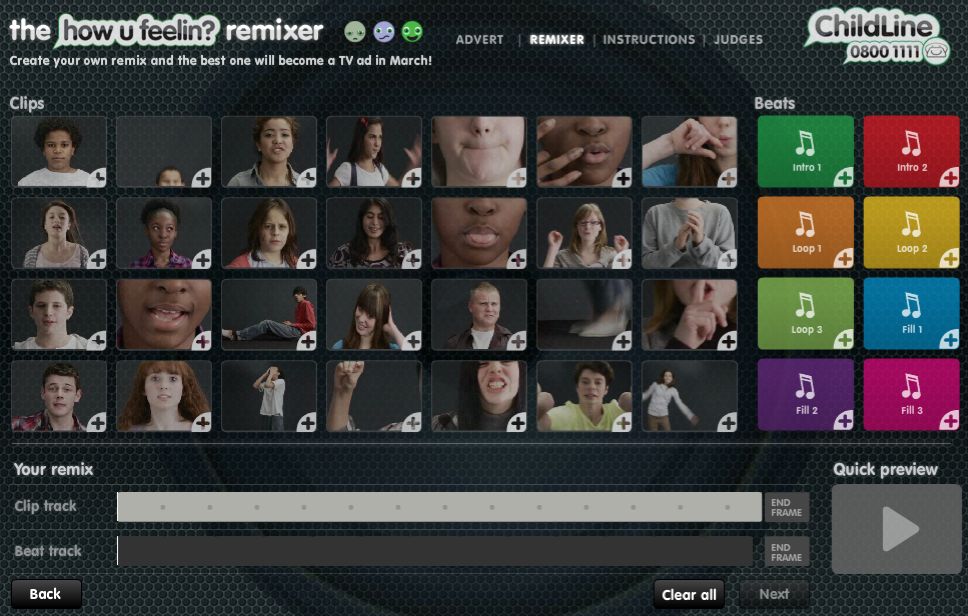 The Childline remixing tool

We have created a new campaign for the NSPCC aimed at making Childline a part of the fabric of children's lives. The idea is to encourage children to express their emotions and to position Childline as the place they can do this freely with immediate online support for those children needing help.
This is the film we made using a track composed by Paul Hartnoll from Orbital using sound and video of children expressing their emotions. The video elements were then projected onto the walls of an urban landscape and the film shot of that performance.
This is the 'making of' film in which Paul Hartnoll talks about the project.
We also created a remixing tool on the Childline website so that children can create their own films and enter them into a competition to be judged by Paul Hartnoll.
Comments
Nice idea; great cause.
Couple of things I notice --
(1) your subjects seem awfully nicely spoken and -- well -- London-y. Feels like you've emptied the Sylvia Young School for a day. Not that this is a bad thing of course.
(2) The campaign SORT of relies on a bunch of kids stopping what they're doing and coming to the ChildLine site. Which I have to say I hope is NOT a site to which they're coming regularly. Or if they are, I hope that ChildLine is doing what it can to stop them from needing to come there.
Could this have been done in association w/ a site where your demo naturally hangs out? Somewhere like MySpace or Facebook for example?
I'm being really lazy here -- couldn't tell you where the demo "naturally hangs out" off the top of my head, but it's worse to see that ChildLine has no Facebook Page. Distressingly out of touch, in fact.
So -- really -- this is a Doritos UGC campaign meets Verizon Beatbox Mixer (2006) sort of thing?
Posted by: Mat Morrison at February 19, 2010 06:54 PM