When brand stretch goes wrong - what Boots and the AA have in common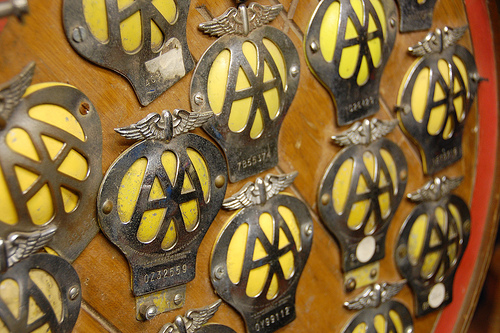 Nice emergency service, shame about the brand extrension. Image courtesy of Ruth Flickr.
The Peter Principle maintains that "in a hierarchy every employee tends to rise to his level of incompetence" in other words as long as people remain competent they continue to be promoted until they reach a level of incompetence where they stay. I think the same thing happens with businesses and brands, they continue to expand their scope of operations and to stretch their brand until they reach a level of incompetence thus threatening all the respect and love they have diligently earned over the years. In other words the brand facilitates extensions that through operational incompetence then compromise loyalty to that brand in its core operations – what is technically known as an 'own goal'.
There are a couple of brands I have had dealings with recently that are guilty of the Peter Principle, Boots and the AA. I have enormous amounts of respect and love for both these brands – they might almost qualify as lovemarks given that both enjoy a considerable amount of loyalty beyond reason from me. Both are in a perfect position to generate additional revenue from this relationship through brand extensions because I'm kinda up for it. However, both have threatened this core relationship through the operational incompetence of a new service.
Boots is a mass-market healthcare and wellbeing retailer. Like many retailers at the moment it is facing extremely tough competition most especially from the supermarkets, so added value services look attractive because they promise higher margins than the day to day business of selling toothpaste. Hence the rapid expansion of the optical offering from Boots. Boots started to offer optical services in 1983, however, until recently it has been a very small part of their operation and they weren't a significant presence in the market. However, in 2009 Boots acquired D&A for a nominal sum creating a real rival to market leader Specasavers and an estate of over 600 optical stores (somewhat reduced with the ultimate closure of the D&A operations). At a brand level optical services appear to make sense for Boots as it has a medical tradition through its pharmacy heritage and it's a brand built on legendary levels of trust from consumers. And while I am not a customer by choice but because boots bought me in the D&A purchase my relationship with Boots means I am quite comfortable with taking optical advice from the brand. That is until one actually experiences the service or lack of it. The opticians themselves are still very good, they have to be as they are professionally qualified but the people and systems around them are a disaster area of epic proportions. Poorly trained staff using very poor systems compromise the service of opticians whose churn rate is so high that good opticians from round the network have to be parachuted into branches for a few days a week to stabilise the practice and the customer base. I had one delightful moment recently when I had been asked to come back for a contact lens check up in a couple of weeks by the optician but couldn't book an appointment because the rotas hadn't been done for that week. The operational incompetence of an organisation that is bloody brilliant at retailing but has no experience or expertise in service has compromised not only the success of the new operation but also my relationship with the core brand.
There is a similarly sorry tale over at the AA. This has not been a happy organisation since its demutualisation over a decade ago but the breakdown operation (once dubbed the fourth emergency service) is still phenomenal and while this ought to be a commodity insurance purchase somehow how for me it still isn't. When I need help I want that yellow van and that patrolman or woman with me by the roadside – and I pay for the privilege of my brand convictions. So it must have seemed an absolute wheeze to create a home repair and servicing offering. After all they know when a repair is required because a patrolman was called out to rescue the driver and they have a gargantuan database of car owners all of whom need their cars regularly serviced. AA home repair and servicing should be a killer app for the AA and an important new source of revenue. The trouble is that the operation is shockingly poor from the first call to the call centre to the shouting match once the whole job has been botched. Again this is not a brand issue – the brand should be able to offer this service effortlessly, its an operational one – the organisation is not set up to offer this kind of customer care. The AA is an emergency service, they are brilliant at responding immediately to a breakdown and then doing just enough to get you going again if this is possible or get you to a garage and your family home if it isn't. They aren't about booking you in to the system a week in advance, working round your life when your car isn't a top priority, following up on enquiries, getting back to you and all those tedious things we expect from a service organisation. Service of this sort is simply not in their blood in the way I'm fire fighters hate popping round to check your smoke alarms.
In both cases the business is operating in territory the brand facilitates but the core competencies of the organisation do not. And this ought to be a lesson to any marketing department hell bent on innovation and eagerly eyeing up its brand and its capability for stretch. For the truth is that these day's brands are often far more flexible than the companies behind them and that often the inevitable outcome of innovation is to confirm the Peter Principle for business, that every great brand gets stretched to its level of incompetence.

Comments
I wonder sometimes if this is because the core competence has long held values and service benchmarks to beat, whereas when the new services open up they follow the competition rather than the core benchmarks.
Posted by: Rob Mortimer at July 5, 2011 09:41 AM
Marketers are very enamoured of that great (and it is great) essay by Ted Levitt from 1960 called Marketing Myopia, in which Ted says that "had they known what business they were in - transportation, not railways - the US railroads would now own the American airllines."
Except as some more sober people have remarked, the skills and people and expertise required to run an airline are spectacularly different from those you need to run a railway.
The AA must have hundreds of patrolmen with decades of experience who can train new recruits to the required standard. Not so with plumbers, etc.
Posted by: Rory Sutherland at July 7, 2011 11:22 AM
Clearly Boots Eye Care customer service varies from branch to branch. My experince at Boots in Canterbury yesterday was excellent - clearly they justified being the recipients of the recently awarded challenge Cup for Customer Care. I would like to add cheerfulness to the offer, for me an essential ingredient, this can frequently overcome glitches in systems and redeem the customer experience. Your branch needs to check out what it is that the Canterbury branch is doing to retain my loyalty which, like you was with previously with D&A. In the inlikely event of this being read by the branch manager - could I suggest that two tills might help the staff in their task.
Posted by: Francis Huntington at July 8, 2011 02:36 PM
I'm curious as to why you have enormous amounts of respect and love for Boots. I will do anything to avoid shopping there. My experience is that they don't know what the hell they are about. Are they still a Chemist? Are they a health store? Are they a beauty Emporium? I'm none the wiser. I don't think they do any of those things very well. And I've never worked out why on earth they sell sandwiches. How can one shop sell both crisps and pile cream? Their shops are unpleasant, over-lit and they have a habit of removing all the check out staff and replacing the tills with self-service 'for our convenience' because apparently we can service ourselves quicker than their incompetent staff can. They constantly move their shelves around, just to befuddle us and their faux-pharmacist uniforms are depressing and outdated, as are their products. The staff are sullen and unknowledgeable. I suspect the experience in the opticians is just the tip of the iceberg and poor opticians for now being forced to work for Boots, that must be very demoralising. Go French, that's a country who know how to run a pharmacy.
Posted by: annie at July 8, 2011 07:49 PM
the AA charge £178, that a network of decentralised garages offer for £36
the internet killed the AA....not poor customer service
Posted by: mark at July 13, 2011 09:07 PM