What's your problem?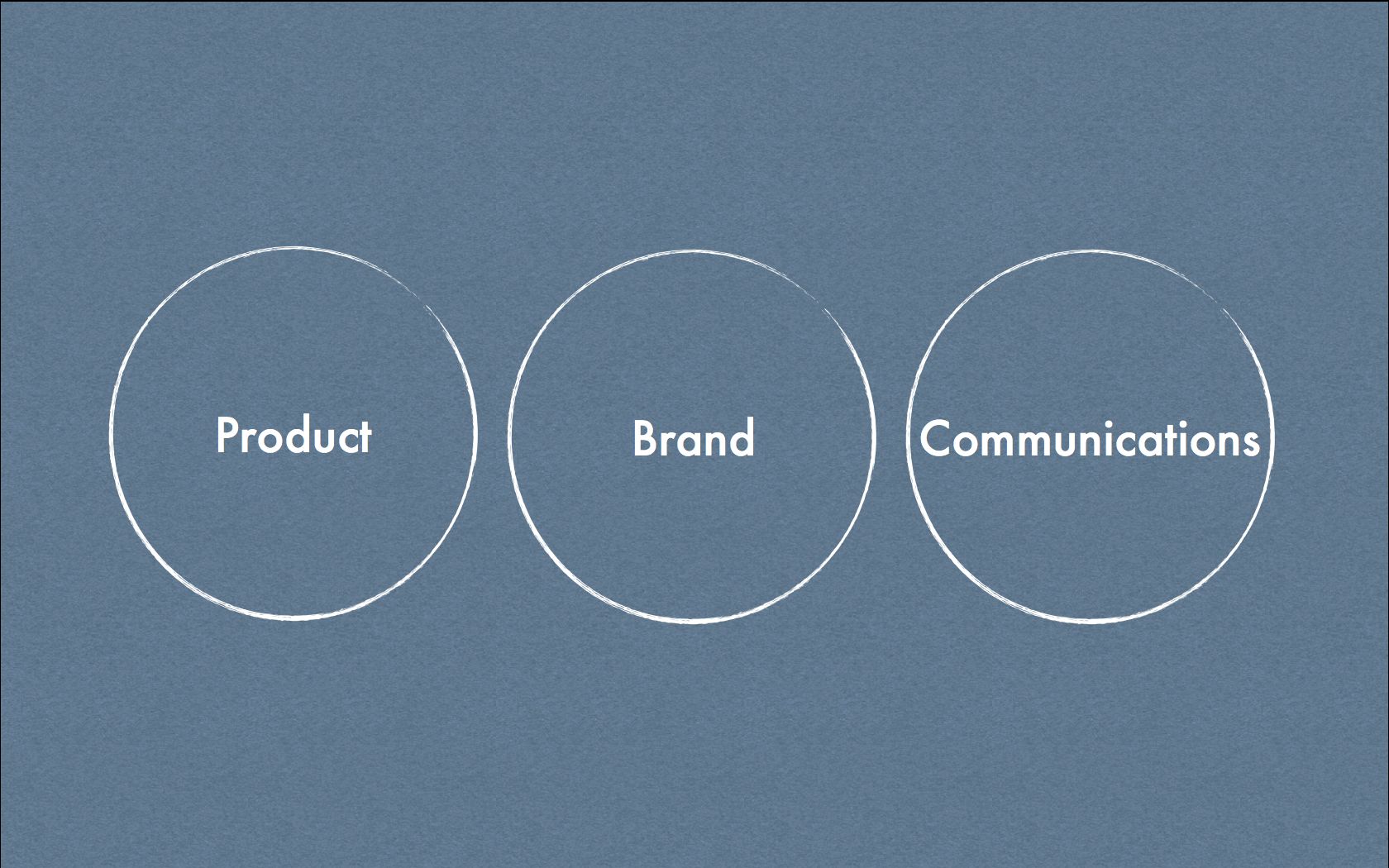 All great marketing solutions start with a well and accurately defined problem and a correct diagnosis of the course of action that needs to be followed. So I thought I'd talk a little about this to kick the new year off in a back to basics style.
There is a very basic diagnostic tool I want to share with you that works a treat at the very start of a project and ensures that you are directing your efforts in the right and most profitable direction.
It involves asking whether you think the real problem that needs to be solved, the blockage that needs to be opened up, is a product, brand or communications problem.
And the starting point is to scrutinise the product, service or occasionally business - to ask whether the problem lies at the product level.
A problem with the product is pretty fundamental. This indicates that in some way what the consumer is being presented doesn't work for them - whether because of performance, pricing, distribution/accessibility. It may well be that you can't do much about this - certainly in the short term but it is nonetheless valuable to know as you try to put your plans in place that they will always be compromised because you are not bringing the right product to the consumer. I worked on Pot Noodle for a while in the early part of the last decade. While magnificent work has been done at both brand and communications levels to help Pot Noodle the fundamental problem is at a product level. It's not that some people don't love Pot Noodle - they do - but the market for dehydrated soya protein snacks is literally drying up. The product needs re-formulating if it's not to die out altogether.
If there appears to be no fundamental product issue it is time to move on to the brand. Is there something about the brand and specifically people's relationship with or beliefs about that brand that are holding sales back. Many perfectly good products are compromised by unhelpful brand associations that ensure their popularity is not far greater with predictable effects on sales. One of the classic examples of this in the automotive category was, of course, Skoda. Under new ownership product quality had been transformed, however perceptions of the brand dated back to the cold war era. Or to be specific brand associations amongst Skoda buyers had been improved through experience but the jokes about the brand persisted in the wider group of influencers and this was having a detrimental effect on sales. Skoda had to deal with the brand problem first and foremost.
And finally if it's not a product or brand problem it's probably a communications problem - that the communications for the brand are not telling the right story, working in the right way or targeting the right people. In a sense this is to be welcomed as it's a damn site easier to sort out a brand's comms than the brand itself the product or business at it's core. In the first half of the last decade Cadbury weren't doing particularly well. This had nothing to do with the product (people adored the taste of Cadbury's Dairy Milk) though that didn't stop them spending time, energy and valuable distribution on NPD. And quite obviously there wasn't really a brand problem either - Cadbury's place in the affections of the nation was secure and the nature of its brand associations rich and robust. Its problem was with its communications - they were simply failing to inspire people and successfully communication the joy at the heart of the brand. That all changed in August 2007 thanks to that drumming Gorilla. Of course the communications solution required may not be about or only about the content you create. It could well be the audience you are targeting, the channels that you are using or the brief at the root of your campaigns - the selling idea that you are employing. If the requirement is to create behaviour change finding the trigger for change is often at the heart of the matter - I'm still a big fan of the Metropolitan Police campaign that set out to recruit high calibre candidates by communicating that 999 out of 1000 people could never be police officers.
Now, you might find all this simplistic, old hat or old fashioned. But it doesn't half help me right up front to understand and show where the problem lies. I used it at the beginning of our journey on WeightWatchers to show that there was no fundamental product problem at hand and that while its communications could be better they were quite successful for what they were. What was holding WeightWatchers back as a business were perceptions of the brand among people that had never tried the programme, and that is what they needed to sort out.
Comments
Posted by: jcp11 at January 11, 2012 12:24 PM
Love the thought that the fact that there is no problem is increasingly a problem.
Posted by: richard at January 11, 2012 05:10 PM
Good question to ask up front. But how do you solve a brand problem? Probably by improving the product experience, or improving communications, no?
Posted by: Daniel Goodall at January 12, 2012 06:53 AM
Daniel, if you have a brand problem and a great product then there is something that you are failing to communicate about that product for sure. And as we all know marketing can only help an underperforming product for a finite amount of time. Though with established brands many of the issues can be a result of historic symbolism that the brand has attracted that needs dealing with. I am going to try and post on identifying and dealing with different brand problems shortly.
Posted by: Richard at January 12, 2012 07:36 AM
Posted by: Boye at January 13, 2012 12:51 PM
Just been reading this http://www.economist.com/node/21542796 about how come Kodak is almost bust and Fuji is doing rather well. Great example of a product problem making any amount of brand or communications tinkering obsolete.
Posted by: richard at January 16, 2012 12:44 PM
LOVE
"The greatest challenge to any thinker is stating the problem in a way that will allow a solution" George Bernard Shaw
FX
Posted by: faris at January 17, 2012 07:57 PM
WOW! basic business common sense back in fashion in Adland!
PS. I am serious, not an inch ironic
Posted by: Rosario Di Dio at January 20, 2012 02:15 PM
Very good post - this part of the process is often not seen as being as glamorous as crafting a brief but for me is more influential.
Most of the really interesting campaigns from Adland have been stellar examples of where it all started with great problem definition.

The area of what you do when there is a 'Product' problem is the most interesting right now. Product difference is more important than ever before in our ZMOT, like button, Amazon review, TripAdvisor world. This is the area which ad agencies are least equipped to deal with - we're generally pretty good at helping with Brand or Comms problems.
Surely this is where we need new ways of helping clients than have existed in the past? Do more agencies need to set up NPD departments?
Posted by: Pete at January 26, 2012 06:54 AM
Firstly Pete, I totally agree on the product differentiation front. The cliches that products are functionally identical so need emotionally differentiating is complete bullshit - still pedaled by the ad industry. The products and brands we love are perceived by us to be functionally superior - often because they are. So yes to NPD departments or NPD expertise. However, our principle role remains offering brand advice and this means helping businesses figure out where a problem or advantage lies and whether this is at the product level or somewhere else. The tools you talk about become helpful diagnostics about where an intervention is required.
Posted by: Richard at January 26, 2012 07:28 AM
Thanks for the reply Richard.
I think the point I'm trying to make is that now, more than ever before, the first and most important part of building brand image will be designing an outstanding product or service.
If we in ad agencies don't have a strategy for how we can advise clients in designing outstanding products then we will be marginalising ourselves even further from what is the most important step in brand-building.
It's obviously what "Baked In" is talking all about so I am conscious that I'm not treading new ground here! However, I suppose I'm paranoid that increasingly ad agencies will only really be needed by clients with average, me too products, for whom the bullshit you mention is actually really needed. Some large FMCG companies still need agencies, but does Apple really need TBWA as much as they did twenty years ago? Their ads are certainly not very '1984' anymore....
Posted by: Pete at January 27, 2012 04:33 AM