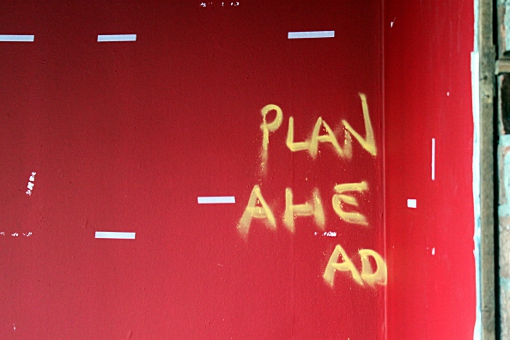 What's the plan for planning? Image courtesy of see_another_side.
A few years ago in an orgy of self-congratulation and a pithy monographs invoking the spirit of King and Pollitt, planning turned forty. The second great advertising innovation of the twentieth century alongside Bernbach's pairing of creative teams seemed confident and cocksure with a rosy future ahead of it both within the advertising development process and beyond it.
However, far from being in the rudest of health I wonder whether planning is actually in crisis, the result of a combination of external and internal factors that are putting it under considerable practical pressure. For the first time in my career, I'm not sure we can take the future of the discipline for granted and certainly not in its current form.

No one doubts that clients want greater help navigating the minds and actions of consumers or that they have an insatiable demand for insight but has anyone bothered to let their procurement departments know? The fee negotiations that all of us have been subjected to over the past couple of years were characterised by unparalleled brutality. And its often planning that gets compromised first in the desire to descope the agency offering to match the figure procurement has plucked out of the air.
Of course, its not all about penny pinching, in part we are under pressure precisely because of planning's success as an idea and as an offering. Few clients outside the media industry believe that there is much value in taking creativity in-house, recognising that their cultures and opportunities do not attract the best creative practitioners. But that's not been the case with planning. Clients are increasingly keen to absorb more of the planning function into their own head count and marketing departments. And with those skills on board they feel less inclined to out-source them to their agencies. Witness the number of pitches in which clients come not only with a problem but also half a solution and it's the planning half of the solution they have under their arms.
Simultaneously we are all trying to understand and enagage with our audiences at a time of unparalleled cultural and technological change. And specifically how to construct a planning offering that is capable of meeting this need while also offering more traditional brand advice and strategic counsel to our clients. Not in blogging lah-lah land but at the agency coalface where planning heads are trying to balance real revenue with much needed investment. As the skills of the strategist fragment we have to find a way to afford a core offering of generalists as well as a stable of strategic specialists. And we have to figure out which specialist skills we need in house, which will be offered by partner agencies and which will continue to be sourced on the open market.
It feels to me like a perfect storm of declining revenue to pay for our people and expanding skills that are required of them, that's the crisis that planning is facing.
Now, for the more myopic of you this may be a cause for celebration, planning has often been seen as a source of frustration for both account handlers and creatives, in part because of the way it has de-skilled both of them. With an entire group of people focused on communications effectiveness, account handlers have lost their strategic instincts and with creative departments offered much of the solution in the brief they have lost the salesmanship so beloved of Ogilvy and Abbott.
But before you crack open the Krug pause for a moment to think what this says about the direction of travel for our business. Let planning follow the media boys and girls out of the door and we recognise that advertising agencies are no more that outsourced creative departments, there to do little more than the colouring-in for clients that already have the solution to their business problem and just need a selection of creative ideas to they can choose from.
Agencies need planning because though it's true that great and effective advertising can be created without us, planning makes sure both these outcomes happen more often. But that need has to be based on real value to client and agencies alike not bodies that can be charged onto the client to bump up the fees on the account – those days are over. And for that reason I think we may need to look at the way we organise planning.
Since the birth of the planning we have modeled our departments on that of account handling. Planners have always been allocated to specific accounts like their account handling partners working hand in glove with them on a daily basis. This approach has clearly been effective but it's also been rather cosy creating an environment where the mediocre can hide, the brilliant get lost, and we have by necessity to create one-size-fits-all planners because every one in the department is doing broadly the same job.
This isn't the case with our creative colleagues. Teams are rarely allocated to clients but instead a pool of increasingly diverse creative talent solves the creative problems the agency is faced with. One team can be allocated to a project or many and they can either work competitively or collaboratively to find and execute the best solution. Some teams may be more familiar with a client than others, however real institutional knowledge is held by the Creative Directors or ECD who match the best talent to the task.
Perhaps it's time to operate our planning departments more like our creative departments. And to do so because it might offer a better way to add value to our client's, to our agencies and frankly a more rewarding way for our best talent to work. With a pool of diverse planning skills, including deep specialists and anchored by a core of generalists, Planning Directors can match the needs of the task with the right talents and in collaborative teams working collectively and quickly to solve problems. Institutional knowledge and continuity of care for the brand would be retained by Planning Directors rather than at every level of the department. And without the need staff the department with one-size-fits-all planners allocated to accounts budget is freed up to invest in strategic specialists.
Of course, in doing this we would fundamentally disrupt the model of planning that has worked so successfully for 40 years. We will upset those clients that want dedicated planners throughout their business. And we will un-pick the rewarding and powerful relationships between suit and planner that we have always enjoyed.
However, we would also escape from a system that has made planning cosy and lazy and called into question our value. A system in which planning has been taken for granted by clients and agencies, offered and bought as part of a package without real scrutiny of the value being added to either party. Value we have to deliver more consistently and with greater speed in order to defend our revenue and value that we can only truly offer now by freeing some of that revenue to be spent on the specialisms we need to make sense of the world and deliver more effective solutions.
This post was first published as an article in Campaign Magazine