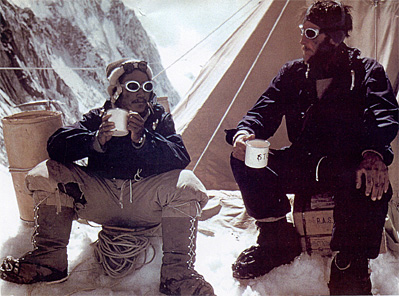 Hillary and Tenzing enjoying a hearty cup of beef tea while scaling their own summit. Image courtesy of bernard-Voyer.com
Yesterday I had the great pleasure of chair in a panel session on technology at the Future Marketing Summit in London. With me were Steve Henry (creative legend and ex-employer), Rory Sutherland (Ogilvy supremo), Amelia Torode (VCCP's digital chief) and David Grebert (P&G's future guru on advertising and instore experience). We were a little light on technologists to be honest but I rather enjoyed myself having these brains at my beck and call.
It is always a pain as a facilitator that you can't lob in your own point of view so I make sure I pissed all over the subject to before hand in my introduction. I talked about the need to retain the magic and delight that new technology brings back to marketing, my preference for tech' that amplifies brand ideas and the need for us to be more modest when approaching new technology and media.
You can download the speech (if you are a regular reader don't expect too much you haven't seen here already) while the slides are on a slideshare (which you won't be able to see if you are reading this as a feed).