If you want it to work – care about it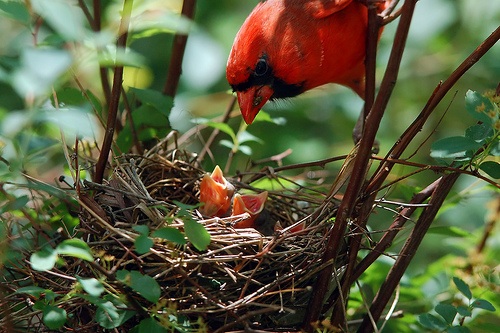 A male Cardinal feeding its chicks. Image courtesy of frnch.
I recently gave a talk at which I harangued the attentive and no doubt hugely appreciative audience about the enduring power of advertising – the things that it does that the other marketing disciplines can't touch.

Regular readers might know this as my monopoly, magic and meaning rant.
I always end up this oratorical hailstorm with the warning that stellar success is advertising's promise, but that it rarely lives up to that promise and it is down to clients to ensure that it does for them.
Anyway in the Q&A someone asked, appropriately, how as a client you could make sure your agency is delivering the goods.
And of course there is no easy answer to this although ensuring you are with the right agency for you and your business kinda helps.
But there may be a shortcut and that is to care about it.
To care about the advertising that you produce. To care that the strategy is right and not just comfortable. To care that the work is potent and not just self-indulgent. And to care about delivering real success and not just a couple of percentage points on last year's performance.
You see there is a great temptation today to marginalise the advertising part of the mix. To see it as an ornament for the brand that is incapable of delivering tangible results for the business but that you need to serve up to maintain a share of voice or corporate appearances.
This is particularly the case as the modern marketer is able to spend less and less of their working week attending to their advertising given the many other calls on their time from corporate re-organisations to the proliferation of other and no less important marketing disciplines.
But the tricky thing about advertising is that you can't just set it up and let it run on rails – it needs constant and senior attention if it is to deliver for you. And that is because it is one of the least predictable marketing investments you can make – and all the better for it. Get it right and the outcome can be totally disproportionate to the budget you spend, get it wrong and it's cash down the drain.
This doesn't mean spending a disproportionate time on your advertising – although getting the brand idea right up front should be a priority – but caring about it passionately when you do turn your mind to it.
And ensuring that your team care about it too.
Otherwise your advertising budget will be long on promises but rather short on delivery