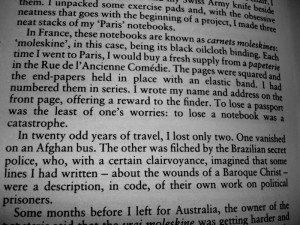 The passage in Songlines in which Bruce Chatwin names the Moleskine. Image courtesy of Songlines.
The biggest cliché in advertising is not lunching at the Ivy, drinking chilled rose on the Carlton Terrace or doing coke with the intern in the toilets at the Christmas party. The biggest cliché in advertising is the Moleskine notebook.

Once the preserve of the planning class, in which it is now both compulsory and ubiquitous, the Moleskine has spread faster than syphilis through the account handlers and onto the client community. Rare indeed is it to be in any kind of advertising meeting where a Moleskine is absent.
So I am more than aware that my predilection for the notebooks of Bruce Chatwin and Ernest Hemingway mark me out as an out an out advertising wanker far more than a transporter full of Porsches ever could.
But obsessed with them I am and so I thought I'd mark this, my Moleskine anniversary. By which I mean it is ten years to the month that I first started using Moleskine notebooks and ten years to the month that I stopped using any other notebook whatsoever. You may well dip in and out of the gorgeous little black hardback notebook from time to time, much like you occasionally treat yourself to good single malt whisky, but I mainline the fucking things. My office sports an entire cabinet that houses Moleskines and contains every one I have written in since the beginning of 2003. Behind its sliding doors are every single thing I have thought or doodled over the past decade – including notes from every client meeting, creative review and pitch. It's the closest thing I get to displaying serial killer behaviour – that and the two bodies under the patio in a house in Tufnell Park.
In the true definition of a Lovemark I find Moleskines both irreplaceable and irresistible. And frankly rather inspirational.
Quite apart from the pure sensual thrill of removing the plastic cover and paper band from a new Moleskine and turning its crisp, cream pages for the first time, Moleskines serve two very specific purposes for me. They help me to think and think what I am thinking is good.
The first point is perhaps understandable, the format and nature of the pages allow just the right sort of canvas to capture notes from a meeting as well as sketch out ideas and fiddle with thoughts for diagrams, models and presentations. Sometimes I work down the page using the lines for formality and sometimes I work in landscape – perfect for drafting presentations and weirdly enough research debriefs or creative reviews – you can get more on a double page and draw more links between ideas.
The second point is, I concede, rather more bizarre and in a sense delusional – what on earth is the point of thinking your thinking good, surely all that matters is whether it is or not?
When I was at University I gave the college library a wide berth. A magnificent structure, it was built in 1624 and houses the College's collection of rare manuscripts and early printed texts gathered over the course of 500 years. And it's absolutely the place to be if you want to study rare manuscripts and early printed texts gathered over the course of 500 years but it was fucking useless if you wanted to scrape a decent geography degree. However, there was one time in the year when I used the library religiously and that was during exam revision. You see sitting down at the same benches and tables as Wordsworth or Wilberforce and with the weight of hundreds of years of learning and endeavour figuratively and literally around me made me feel a little more studious, focused and clever. And that helped my revision.
And so it is with Moleskines. Whenever I go through the ritual of turning a fresh page of silky smooth acid free paper and begin to write or draw, always but always with a fountain pen and ink, the book puts me in a productive space and creates expectation. This is not dissimilar to the rituals the choreographer Tywla Tharp refers to in 'the creative habit' as a 'little creative crutches' – the routines and habits that help you think, in her case  about cutting-edge contemporary dance and me about differentiating parity products. Of course the page is often then filled with absolute drivel, to do lists and hastily copied down telephone numbers but that never ruins the ritual or dents the expectation – even drivel looks clever in a Moleskine.
Put simply, I use Moleskine notebooks both constantly and exclusively because they put me in the mood and in some small way kick my brain into gear. And when they are not doing any of this I simply love the feel of inking those pages with the same simple physical joy of a two-year old squishing play-doh through their hands.
The Moleskine stash can be seen in this this Vine