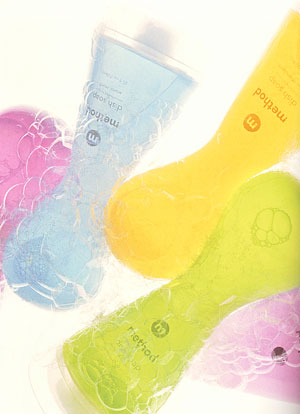 Each month I want to try and showcase a brand that has an interesting take on the market they operate in and ideally is built around a clear brand idea or ideal.
The first candidate to send down the catwalk for your edification and scrutiny is Method, the US personal and homecare brand – now available in the UK and Canada.

I was introduced to Method by Johnny Vulcan, of Anomaly fame, at the last Coffee Morning of 2006.
Half Molton Brown, half Ecover, Method combines houseproud style, efficacy and environmental care in one funky cleaning brand. And in doing so creates the sort of consumer desire that one usually expects from the drawing board of Jonathan Ive
The secret appears to be in the talented combination of co-founder Adam Lowry (a chemical engineer from Stamford),the packaging design and plastic wizardry of Karim Rashid and the brand nouse of co-founder Eric Ryan, an ex-adman (there is hope for all of us).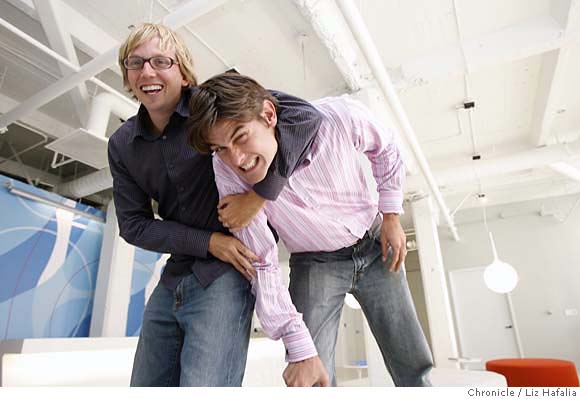 Adam and Eric in playful mood
But its is also that Method's brand idea is so potent, a brand idea encapsulated in the thought 'people against dirty'.
'People against dirty' tickles me for a number of reasons.
For starters it is the antithesis of Persil's 'Dirt is good idea' which as you all know I really like. But there is room in my heart for more than one breakthrough detergent strategy and I am loving 'People against dirty'.
At first sight it rather wonderfully embraces contemporary consumers who want their homes clean, clothes pristine and bathrooms well appointed. It is a home-care brand that gets beyond the post war idea of housework as a chore that needs to be completed as fast and with as little effort as possible. In part of course this is because many of Method's customers will have a rather casual relationship with the cleaning leaving that to the cleaner that they employ for the purpose. Nevertheless its a brand that celebrate cleanliness whereas the 'scientific' brands merely obsess about it and the environmental brands seem not to be that interested. This is the platform for an environmentally friendly brand to stand up it's efficacy credentials.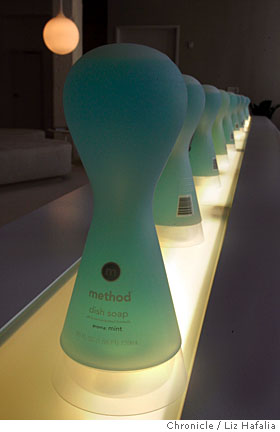 Fairy Liquid eat your heart out
But of course the idea is more fundamentally about a belief that there is no point in getting your clothes or hands clean if the results is you make the rivers dirty. Method is against all dirt wherever it is. This is the real traction in the brand idea especially for anyone like me that winces every time the Finish tablet is popped into the dishwasher. Method, like many of the brands we currently admire, has a strong point of view on the things that we care about and does something about it.
Interestingly in that context Persil's belief in dirt being good becomes rather worrying – an enthusiastic embrace of environmental destruction.
But this isn't merely an interesting brand it is an succesful one – Inc. magazine recently named it the seventh fastest growing private company in the US, in a sector that is absolutely stagnant and last year Method racked up sales of $44.9m.
I'm in love, not that I've yet experienced the product first hand. A ghastly UK e-commerce site means that I have as yet failed to get my increasingly filthy hands on any of this stuff and boy you should see the delivery charges – perhaps the Royal Mail is not the best way to get detergent into your house.
And here is the Method chart using the brand idea concept that I introduced last year.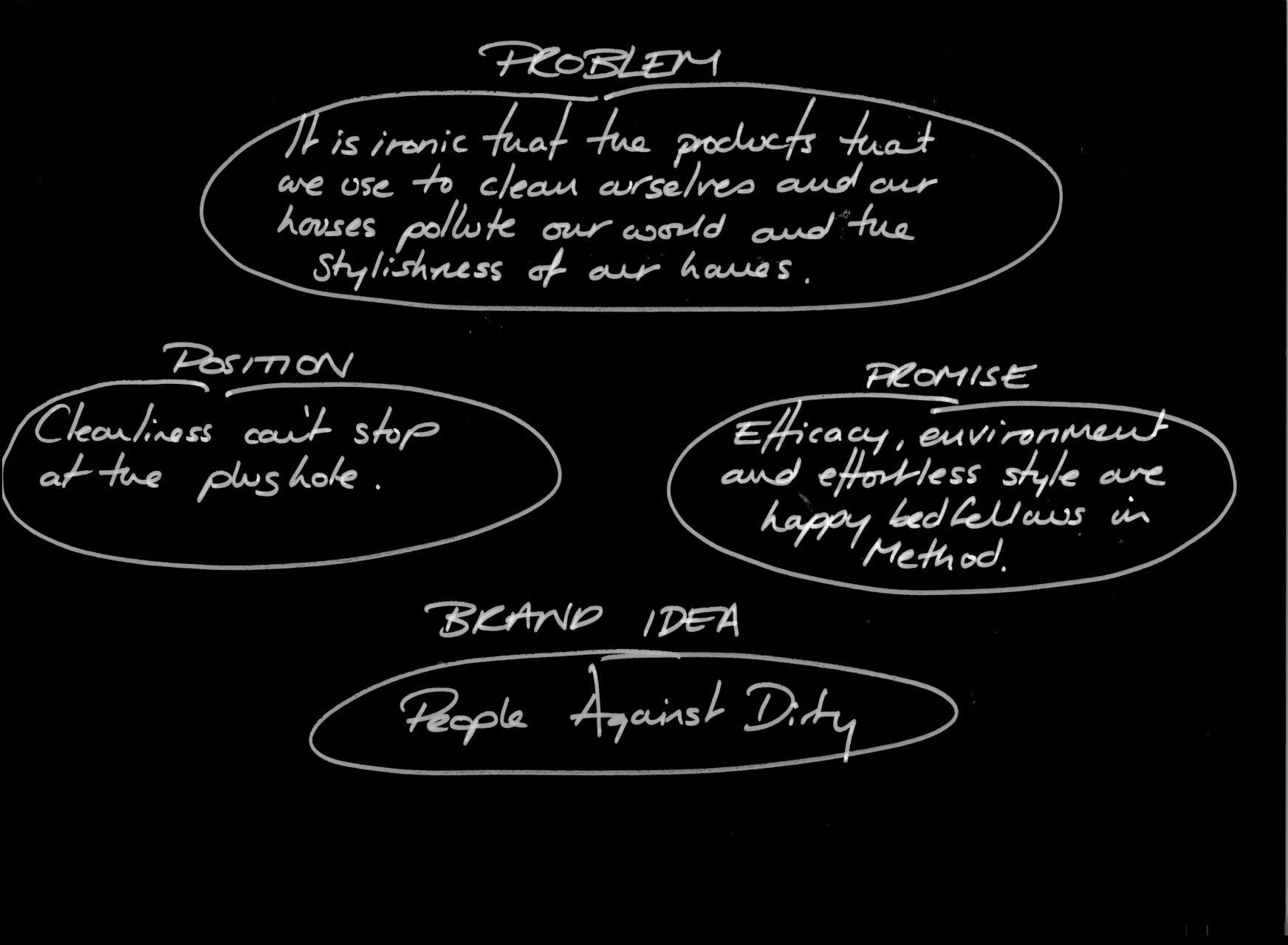 By the way Crispin Porter have done some work for method that is on their site.