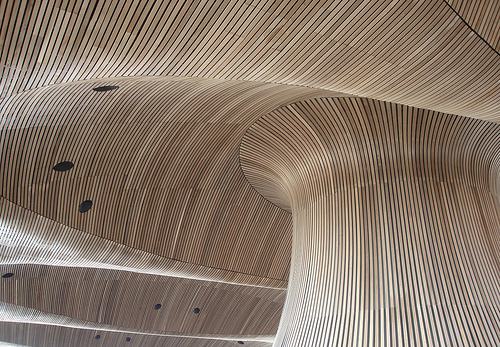 The cedar wood ceiling of the new Welsh Assembly building in Cardiff Bay, home of devolved Welsh Government. Image courtesy of Crimson Purple
This is a kind of mash up of a post.
It is part trip into the HHCL vaults, part celebration of radio and part a feel for the idea of a teaming a planner and creative.
And it is about some radio ads we made for the Wales Tourist Board a little while ago.

The Wales Tourist Board have put their business up for pitch. They have to every 3 years because they are publicly funded. Wiedens hold the UK account which they won from us in a similar fashion a little while ago.
Wiedens have done an admirable job, in particular they have cracked a tone of voice that Wales had been looking for for a while. But then Wiedens are very good at that. That said for my money the work lacks ambition, Wales needs to start communicating why it has the right to compete on a global tourism stage not just pick off the mountain biking fraternity with witty ads.
You might think, why bother it is only Wales.
Well Wales being Wales it has made the Tourist Board by far the most interesting and brave of those in the UK. They know they are not the Maldives on the one hand or New Zealand on the other. And this made and makes it one of the most enjoyable tourism accounts to work on globally.
We worked with Wales for a while and, because of their attitude and the freedom they give their agencies we did some really interesting stuff. I like it anyway.
We bought all the air time on Virgin radio on St David's day and played people ambient soundscapes of life in Wales. We sent a photograpaher to Wales one weekend and then mailed the photos to prospects in time for them to go the following weekend and see what he saw. They also let us do ads for events in Wales that had just finished (which I had been longing to do) to give the sense that every weekend there was something going on and that the listener was letting the summer slip away.That kind of stuff.
And we used alot of radio to initiate spontaneous trips over the border. And I love radio.
Which brings me to the heart of this post.
I worked almost exclusively in a planner, copywriter team on Wales, with the appropriately named Andrew Lloyd Jones. Working like that we could get very quickly from the problem definition to a creative idea and execution, often using briefs just as a way to discipline the process rather that as a communication tool between planner and creative team.
Thats how we came to work with the jazz poet Ken Nordine.

Yellow by Ken Nordine
Fibannici numbers by Ken Nordine
So we thought we'd write some Welsh ramblings for him, which we recorded in Chicago with his band improvising the music for each ramble. Which was kind of weird given you are supposed to make as much of the work as you can in Wales with Welsh talent. But not letting that get in the way is one of the reasons they are a great Client.

Sheep music 60 seconds
Dragons 60 seconds
LL's 60 seconds
Area 60 seconds
Enjoy the radio and I suggest you get yourself on that pitch – though Wiedens won't be letting go of it without a fight.