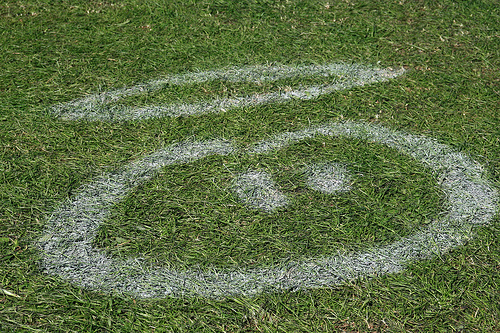 Image courtsesy of Fimb.
The marketing community are often accused of being rather over enthusiastic about Innocent – harbouring feelings about it that aren't perhaps shared by the wider world. Indeed you would have been hard pressed to find people out side the North London media community at this summer's Innocent Village Fete, I even spotted James Murdoch there.

In a recent survey by Marketing Week magazine in the UK it was voted the company British marketers would most like to work for beating Google into second place (admittedly this was when the Virgin brand was broken into individual businesses).
But it's not the general loveliness of the brand, the bottles with knitted wooly hats, it's quirky (some would say cloying) tone of voice or the vans covered with astroturf that make us love it so much.
Its because it is such a shining example of the value of a brand to a business.
Recent data (again quoted in Marketing Week) shows that Innocent's share of the UK Smoothie market, which itself is now valued at £185m and accounts for 19% of the broader chilled juice category, has now reached 72% – up from 63% this time last year.
This near monopoly has been built in a category with a plethora of competitors and in which own label should be powerful (it dominates the rest of the chilled juice market after all).
And to underscore the power of the Innocent brand they have seen their closet rival PJ's Smoothies slump to a 13% share from 19% this time last year. Infact it is easy to argue that the only thing that will save PJ's from being de-listed altogether is retailers wanting some kind of action on the Smoothie Fixture rather than giving up and letting Innocent have it all (which incidentally is what seems to have happened in Co-operative stores, complete with astroturf covered chillers).
And wait for it ladies and gentlemen, all of this has been achieved with a whopping price premium. a quick check on Ocado shows that in late November Innocent is selling a litre of Strawberry and Bannana Smoothie for £3.12 while PJ can only justify charging £2.79. That is a premium of 33p per litre.
And why? Innocent have reached the nirvana of all brands – the point at which sufficient numbers of consumers refuse to substitute one product for another even though they are doing themselves financial harm in behaving like this.
At the moment there is no better example of the power of a brand to build a business (with the sole exception of the Ipod of course). So you need to forgive us for our fawning.
You might be interested in this presentation on the subject that I did a while ago – the examples are a little out of date but the main thrust is still relevant.
|
View
|
Upload your own