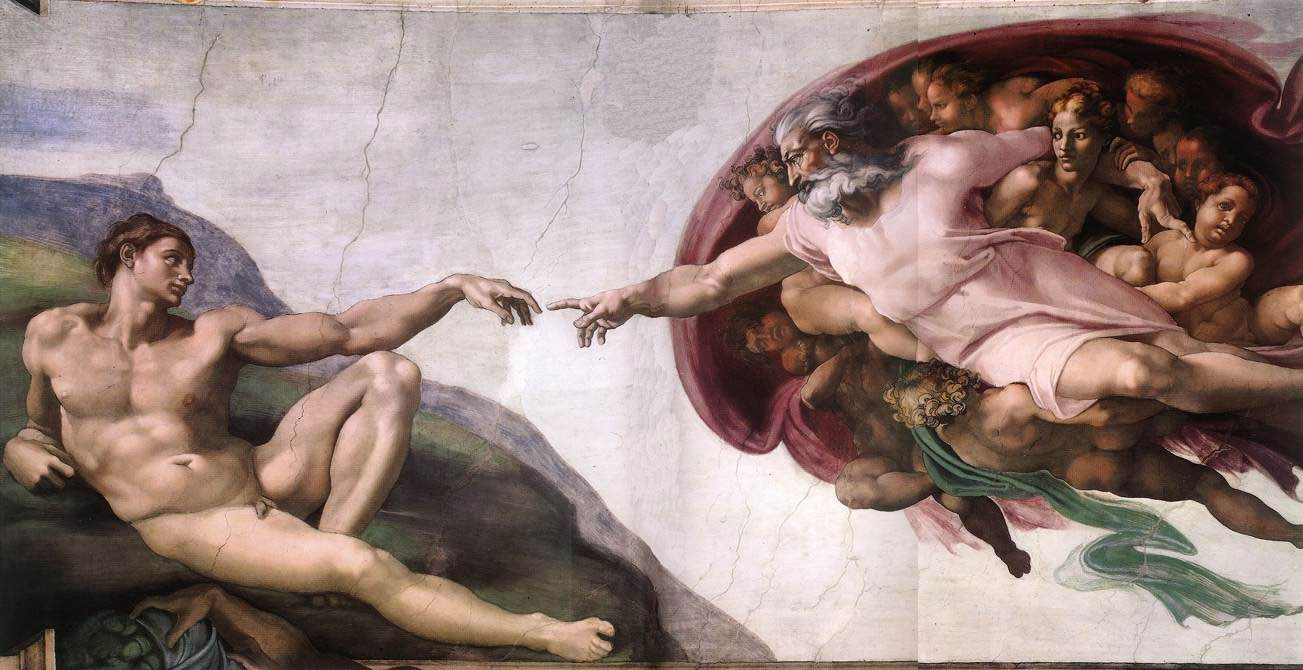 The Creation of Adam by Michelangelo, part of his scheme for the ceiling of the Sistine Chapel completed in 1512. I may be wrong about this but as far as I am aware he wasn't asked to present three different options for the ceiling to go into research.
Once upon a time in a land far away come the appointed hour of the creative presentation, agencies recommended one idea to their clients.

It would represent the best solution that they could possibly develop to answer the business problem they had been given. And because, of all the ideas that they had generated and rejected, this was the best one they could find, they then presented with absolute conviction, backing up the point of view with instinct, research and sheer force of personality.
This approach seemed to work fine until agencies got lazy. They still presented one solution but it was anyone's guess whether this was the finest flowering of the agency's creative product or something conjured out of thin air in a desperate attempt to meet the looming deadline of the client presentation.
So one or two newish agencies hatched a plan. They would present multiple routes earlier on in the process at what were termed 'tissue meetings', nothing could be bought or sold in these meetings but they allowed an early airing for fresh ideas. Chiat Day invented them in the US and HHCL brought them over to the UK when they launched in 1987. Even in the later stages of creative development they would keep multiple routes on the table and allow research to help decide which one to go with.
And this process worked an absolute treat. In the hands of very good agencies it allowed braver and more difficult work to be aired early on and let clients get used to the more challenging stuff on the table, enhancing the likelihood it would be made. Not only did it lead to more interesting advertising but it was an absolute boon to new business because clients found this approach refreshing, not least the peculiar idea of multiple routes in pitches. In addition good clients gained confidence in working with rawer ideas and keeping the difficult stuff on the table at least until it could be researched.
But then something rather dispiriting happened. The rest of adland cottoned on, or were forced to by clients who were getting better work from elsewhere in their roster using the new process. Tissue meetings and multiple routes became the industry standard. Clients wanted to know why there weren't three routes on the table, regardless of their merit, because they were paying good fees and they wanted to get their money's worth. Often they would demand that new creative ideas were developed simply to pad out research – not the most auspicious begining to any creative process.
Never mind the quality, feel the number of make-weight creative ideas, became the new industry mantra.
Far from the tissue meeting and multiple route process improving the standard of work, it actively conspired to degrade it. Agencies, reassured that they had something in the bag, presented work that they didn't wholeheartedly believe in and clients became addicted to the seemingly collaborative approach which appeared to yield genius so very rarely. In a way, because there was no longer a massive punctuation mark in creative development – the creative presentation – both parties slipped into a process that forced neither one of them to step back at any time and ask "but is what we have actually good, I mean really good". Welcome to the era of 'some advertising'.
Ask most people in agencies about this development and they simply shrug their shoulders in resignation – thats what the market demands these days so we have to do it. In the US the need for multiple routes is even written into agency contracts on occasion.
But is anyone really being served well by this approach.
Its not that I am against sharing raw ideas or against researching multiple routes. On Tango we would often have ten to fifteen ideas for Tissue and research three all of which the agency were desperate to make. But I worry that it has eroded the responsibility of the agency to recommend the right course of action to a client in solving their business problem.
I can't help feeling that the time is right to reverse at least some of the damage and return to the idea of a firm agency recommendation. It has already started in pitch presentations where variety is provided by the number of competing agencies and so multiple routes from one agency is unnecessary and increasingly unnerving for clients wanting to understand each agency's clear opinion.
But isn't time that we re-embraced the idea of 'recommendation' in our day to day relationships and give our clients the very best work we possibly can and nothing but nothing else. Isn't it time to put and end for all time to the hideous spectre of 'the route we want to sell', 'the route we don't mind selling' and 'the safe route the client will like'?
After all recommendation is surely why clients go to agencies in the first place? To ask the people that create selling ideas every hour of every day and have done so for a couple of decades or so 'what would you do to solve this problem?'
Because, regardless of what is asked for, it remains the case that all we, our clients and our customers really want out of an agency is one brilliant idea.