Douglas Holt has come to save us all…again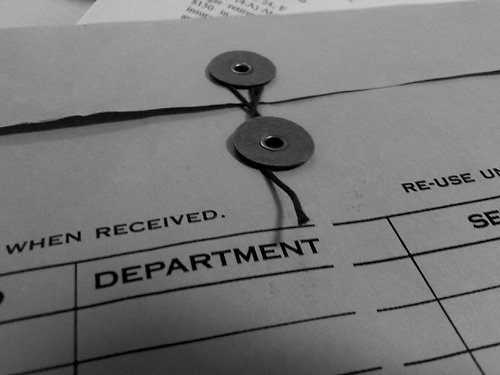 Bureaucracy by Dan_DC.
A few years ago I wrote a post about Douglas Holt and his then new book 'how brands become icons'. The post was called 'Douglas Holt has come to save us all' and he may well have pulled this off a second time with his latest book 'Cultural strategy'.

Monumentally dull though the title is 'Cultural Strategy', which Holt co-authored with Douglas Cameron of Amalgamated fame may well be one of the most important books on advertising and branding in the past ten years.
Broadly Holt and Cameron contend that while every marketer craves innovation to provide new sources of growth for their brands and businesses, on the whole they are looking in the wrong place. For most innovation is either a functional endevour – introducing new product benefits or colonising additional markets, or else it is purely about emotional territory – owning different 'need states' or 'mindspace'. This philosophy of innoavtion is unfortunately rampant in our Client's organisations and it is rendering the big marketing companies impotent when it comes to creating the 'game changing' ideas that they desperately want and need.
Instead Holt and Cameron advocate what they call cultural innovation, which does exactly what it says on the tin. This is about innovation in the cultural rather than functional or emotional space by introducing or playing with the ideology of that brand, ideology that at best conflicts with the cultural orthodoxy of the moment. This is not a million miles away from the idea we often talk about here of brands with positions and not positionings.
For Holt and Cameron its is cultural innovation that is best able to deliver immediate and sustainable growth for brands and businesses not more and more brand extensions or SKUs. As they say in the opening chapter "The list of cultural innovations that have launched or reinvigorated businesses worth billions goes on and on: Marlboro, Coca-Cola, Levi's, Diesel, Dove, Axe/Lynx, American Express, American Apparel, The Body Shop, Target, Virgin, Pepsi-Cola, Polo, Harley-Davidson, Seventh Generation, Method, Burt's Bees, Brita, Whole Foods, Patagonia, Jack Daniels, Mountain Dew, Absolute, Starbucks, Volkswagen".
And boy is this good news for people like us. While many of the cultural innovations they talk about at length in the book are down to the entrepreneurial visions of the founders of those businesses, the second most important source of cultural innovation is advertising agencies. Advertising agencies mind, not brand consultancies, design agencies, digital agencies, research companies, innovation specialists, trend forecasters and all their fellow travelers. And that's because the raw material that Ad people work with is first and foremost ideology and the manipulation of ideological meaning.
Any regular follower of this blog will know that this is extremely sweet music to my ears and the examples Holt and Cameron give after eight years of interviewing the entrepreneurs, clients and agencies behind the most powerful cultural innovations are not simply fascinating, they given you an evangelical zeal to follow in their footsteps. If you do nothing else read the account of BBH and Levis developing Launderette, the work that followed it and why and when it went wrong.
And if you need any more encouragement to pre-order this book now you absolutely must read the chapter on brand bureaucracies, sciency marketing and the importance of creating cultural studios that collectively author the ideas and bind visionary clients, agencies and creative craftspeople together. They deliver a brilliant and withering critique of the faux-science that is endemic in our client's marketing departments and with which the research and agency world is entirely complicit. Suck on this little quote for a moment and tell me this isn't true of your agency. "Agencies are more than happy to express publicly the profound wisdom of their client's branding initiatives, but behind the scenes they subject these efforts to constant ridicule. Agencies obligingly structure their entire work production product to the beat of the client's innovation assembly line despite private acknowledgment that this structure is self defeating".
Hurrah for you, Holt and Cameron.