Welcome to the age of micro-planning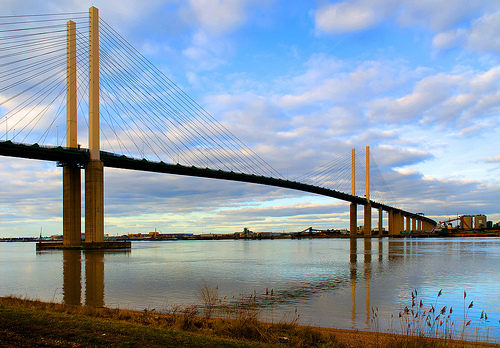 Downstream – where planning is heading. Image courtesy of SunnyUK
I had the absolute privilege of judging the Account Planning Group Creative Strategy awards recently. I love the APG Awards, they showcase real planning and great planners in a way that the other so called planning awards do not. And for me this year saw a return to form for the awards. In all there were 26 presentations from some of the best in the business, delivered in person, which is one of the reasons the awards are so special – for planners and judges alike.

This year's shortlist has been public for a while. And there is everything in it from extremely famous campaigns like Cravendale's Thumb Cats, the Yeo Valley rappers and The Stella 'She's a thing of beauty' campaign to an internal project at Weiden's to reduce energy consumption, a Japanese bottled water that cornered the market with a new collapsible bottle and a campaign to help demobilisation of FARC Guerillas in Columbia. Clearly I can't let on what has won yet but every one of them is worth a read when the papers are published shortly.
That said I think there was a clear difference in this year's papers and presentations. A lot less brand planning (though there are some splendid examples) and a lot more micro-planning. I have no problem with the downstream approach to planning, it has always represented proof that the planner is more than a brief writing machine and is capable of and welcome to bring their skills to bare on the more executional facets of a campaign. This is particularly the case when real time planning is required as a campaign unfolds and evolves.
That said it seems a shame to me if planners are walking away from, or unable to deliver, 'upstream' brand planning. Planning that either repositions a brand in the marketplace (such as Matt Boffey's Lurpak work or Craig Mawdsley's Sainsbury's thinking which both won in 2007) or shapes a communications campaign with a clever reframing of the problem or sharp proposition (think Richard Storey's Met Police campaign or Stuart Smith's Positive Hate thinking for Honda).
So why are we seeing a lot less brand planning and a lot more micro planning? Indeed this year's particular theme was the selection and prioritisation of celebrities according to their social media reach. Worthwhile but not really award winning. Personally I don't think it's the quality of our planners, I rather suspect it is the quality or nature of the briefs that we receive and in particular the pitch briefs that we get.
Once upon a time in a land far, far away clients would issue pitch briefs with the commercial problem they were seeking to solve and ask a selection of agencies at the top of their game to answer that problem by any means they felt necessary to meet the objective. That was a brilliant time for planners because our role was to work out how to use brand and communications and their meaning and content to change people's behaviour and thus solve the problem. That's why Craig Mawdsley's Sainsbury's paper is so good and won a Grand Prix, it starts with a commercial problem and shows why asking people to try something new today would and did deliver incremental sales to Sainsbury's.
However, this kind of pitch has become rarer and rarer. For one thing the this shoddy Government has turned its back on communications led behaviour change after decades of success in doing this – there were a lot fewer UK Government papers this year (though notably the Governments of Iceland and Columbia both retain a faith in what we do). But more importantly Clients are arriving at our doors having done the planning bit – whether this is good, bad or indifferent. Often this has been with some kind of branding agency or research company and it's rarely that edifying. Clearly every client has the right to do this but it means that Agencies are given briefs to execute work to a brand idea not to solve a commercial or social problem. In one pitch this year the planning had been done entirely at the previous incumbent and then the creative brief shipped out to a selection or new agencies – which must still stick in that planners throat, especially as the thinking was award worthy but severed from the creative work by the review.
Micro-planning, downstream and real time planning have all been a welcome addition to the capabilities and remit of the strategist. However, these approaches should have been in addition to our role in providing the first moment of transformation in a brand's future or in the success of its communications rather in replacement of it. Call me old fashioned but I'd still prefer to be delivering exciting new futures for brands not just fiddling with the execution of the creative work.
The APG Awards are announced on Thursday 6th October.