Dynamic micro brands – Reggae Reggae Sauce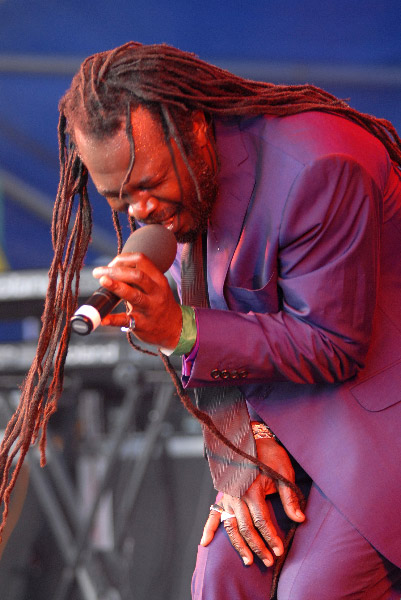 Levi Roots doing his thing. Image courtesy of Gary Lawson.
Time for some good old fashioned brand fawning.
Anyone from our business worth their salt knew that when Levi Roots wrapped up his presentation to the Dragons on the BBC's Dragon's Den in March that his Reggae Reggae Sauce was a sure fire bet.
The sauce, so far made only in Levi Root's own kitchen for sale at Nottinghill Carnival, already had all the ingredients of a Dynamic Micro Brand. All it needed was someone to get his distribution sorted and help find a manufacturer to meet the new levels of demand.


Levi's pitch to the Dragons
Even at his original pitch, and despite Levi's poor grasp of some of his figures, one could tell this brand had what it takes – authenticity, product, a point of view and a powerful idea.
Authenticity rules
Reggae Reggae Sauce drips with authenticity. This isn"t a brand concocted in one of those brainstorms I am so fond of, by a large marketing organisation and made to an original recipe by a team of nutritionists in Geneva. It is Levi's own family recipe (passed to him by his grandmother Miriam) which has been tried and tested on the carnival streets of Notting Hill. Levi (real name Keith) had been making it as a labour of love up until the Dragons got involved. His day job was as a successful musician who had been nominated for a MOBO award in 1998 and had played with James Brown.
It just doesn't get much more authentic than this.
Product performance is paramount
It's good. I can't tell you how it stacks up compared to the Jerk sauce my mother makes because my mother is white, lives in Kent and doesn't cook. But to my uneducated palate it does the trick. I think that what we need to remember is that in taste terms Levi is not just aiming to compete with other jerk sauces but with condiments in general whether for the BBQ or not.
Reggae Reggae sauce is going to be the HP Sauce of 21st Century Britain.
It packs a point of view
Reggae Reggae sauce is part of Levi Root's approach to business which appears to be driven by an obsession with giving stuff back to the community. Proceeds from his Reggae Reggae Sauce song went to Comic Relief, he has already diverted much of his profit to causes around him and his first food outlet in Battersea not only aims to deliver genuine West Indian food at decent prices but claims that it will never turn a kid away if they want to eat but have no money. Maybe Levi is just a wannabe philanthropist or maybe just maybe this brand is the start of a far more important socially responsible food movement.

The opening of Levi's first food outlet – Papine Jerk Centre in Battersea.
There is an idea behind the brand
I guess the idea behind the brand is about putting music into your food – that's the line on the bottle at least. And there is a real sense that he wants to put joy back into food and particularly to spice up jadded British palates. And of course one also has to recognise the instinctive genius of naming this Reggae Reggae Sauce in the first place – its as good as Innocent if not better in the naming stakes.
And as for success? With the help of the Dragons Levi secured a listing in Sainsbury's a couple of weeks after the programme was made and the brand hasn't looked back.



Repackaged since the pitch on TV the brand hit the shelves in March and masssive demand made a shift to outsourced production necessary very quickly. Production, which Levi says has now passed the million bottle mark, is handled by a manufacturer in South Wales and overseen by Levi. Accurate sales figures are not easy to come by but Sainsbury's claim sales of 150,000 bottles on the first day of listing. The key issue now appears to be stock availablity.