Does every brand need a purpose?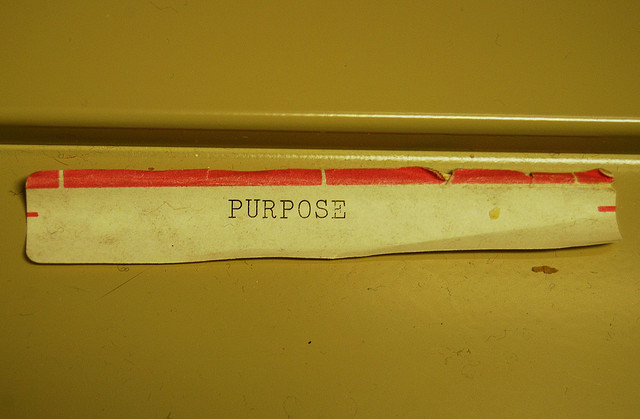 Gold Blend coffee has a new campaign. You'll know if you live in any remotely built up part of the UK because the media buy is impressive.
And it has to be said that it has caused a bit of a stir in the planning community. Now I accept that a bunch of North London intellectuals whining about a piece of work is not the worst thing that can happen to a campaign. But the debate is interesting nonetheless and it has led me to question whether every brand actually needs a purpose.
For those of you who are not familiar with the work, the ads are about Gold Blend's new purpose and that is to help families to spend time together. The debate surrounds the question of why the brand has credibility in pursuing this purpose. The questioning is not of the quality of the ads is about the credibility of the strategy.
So is this just a case of a strategy that feels a little hollow or is it part of a wider issue? These days every brand seems to want a purpose regardless of whether it's a good idea or not.
Now don't get me wrong, I'm as big a fan of brand purpose as the next planner. I was an early advocate of this approach and a firm supporter of the early manifestations of brand purpose like Nike's 'just do it', Dove's 'campaign for real beauty' and Lurpak's 'good food deserves Lurpak'. Each of these is now very well established and very successful, indeed it's weird to think that while the Lurpak campaign is now a decade old and the others are even older.
Nike, Dove and Lurpak were trailblazers for a purpose led approach and in doing so fought against the orthodoxy of the day to deliver something powerful and fresh for their client and brand. But it is perhaps the rarity of the approach that made those campaigns so good. It took real talent and conviction to nurse these ideas out of their agencies and through the client organisation at a time when there were no TED talks by Simon Sinek to play to the CMO.
In fact the idea that purpose is not simply one way of creating brand strategy, it is the only approach can be traced back to Mr Sinek and his concentric circles labeled what, how and why? Although I was first excited by the idea following the publication of the Cluetrain Manifesto in 1999 with its warning that 'people are no longer interested in your positioning, they want to know your position'.
The positive business and marketing environment now makes it easy-peasy to sell a purpose led approach to the client and through the client organisation because the trail blazers blazed the trail and now it's supremely easy to follow. And so everybody does, regardless of whether it's a remotely good idea or not.
It's very clear that people sometimes do look to brands to help make their lives a little better beyond the functionality and values of the brand. But sometimes they just want a great cup of coffee or a decent beer.
Indeed while some of the great purpose trailblazers were FMCG brands I suspect that it is primarily organisations and service brands that not only deserve but need a sense of purpose. So let's say purpose is pretty damn essential for service brands and FMCG brand owners but let's be a little more cautious outside this group. And remember there are many other fantastic strategies beyond the purpose approach for you to get stuck into.
Brands may have a purpose but they can equally simply have a point of view on something important and close to them. An opinion in other words. The Body Shop believed that animal testing was wrong and most probably still does. That doesn't mean to say that the purpose of the Body Shop was solely to put an end to animal testing just that it was one issue that is very close to a cosmetics brand that they had a strong opinion about.
Brands may also want to undertake acts. Kenco has a fantastic approach at the moment in which they are campaigning to encourage people out of gangs and into the coffee industry. Again this is not Kenco's purpose but it is something that they have a strong belief in and in which they have a very credible voice. This is an 'act' as the people at Leo Burnett would say.
And finally brands may simply decide that they have a role. This is the classic planner's tool and still immensely powerful. A brand's role is simply the motivating and credible part that it seeks to play in people's lives. I have a Dyson vacuum cleaner, all I want is for it to clean my home brilliantly and it does, brilliantly.
My issue is not that brand purpose is an illegitimate strategic tool, far from it. Indeed I am currently working on a number of purposing projects. But that it is not the only or the ultimate strategic tool. Maybe Simon Sinek is wrong and sometimes people don't give a damn why you do what you do, just how you do it or perhaps actually what it is you do.
Brand purpose has served us well, let's not destroy it by insisting that every brand has one regardless of whether this is a good idea or whether there are other more potent ways to get people to buy your product.
Image courtesy of Seth Sawyers